At Gift4mum Cleaning ACT, we take pride in our cleaning services, and we ensure the same kind of cleaning care we take in our own homes.
Our people
We hire only the best house cleaners who are highly qualified and experienced. Each member of the Gift4mum Green Cleaning ACT team is carefully screened and well-trained in our system, using green products, and using cleaning equipment to reach our deluxe cleaning standard.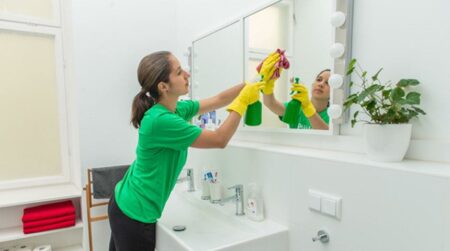 Our team currently has five members who are vigorously vetted by us, with police checks for your security and awesome references. With a limited number of cleaners, we focus on assigning certain jobs as long as possible as we know that swapping cleaners will definitely make our clients feel confused and inconvenient.
Our cleaners are reliable, friendly and efficient. They can handle any cleaning project, and no job is too big or small.
From regular house cleaning, Airbnb cleaning, deep house cleaning, carpet steam cleaning to end-of-lease cleaning our highly trained, skilled staff will ensure your home is pleasant, safe, and healthy.
Our safe and green cleaning products
We understand that your health and safety of your family and employees are important to you. We supply all our own environmentally friendly, non-toxic and non-flammable cleaning products that are free of ammonia,
petroleum and sodium chloride, have low VOCs, and do not contain harsh chemicals.
Our cleaning solutions are safe to use around children, pets, and people with asthma, allergies, and skin irritations.
Over our many years in the business, we've developed a foolproof system that guarantees excellent results. We maintain the highest standards of cleanliness and hygiene at all times.
Our regular cleaning products embrace biodegradable brands, such as Enzyme Wizard, Multiklean, Simple Green, Vinegar, Sugar soap. These products are already well known for cleaning effectiveness and safety.
Our guarantee
Gift4mum Cleaning ACT is qualified to provide professional maid service and is fully insured. We carry comprehensive general liability and property damage insurance, and all our staff members are covered by Workers' Compensation.
Our highly trained cleaners are fast and efficient, and we perform all cleaning services during the agreed-upon days and times.
If you find any of our services unsatisfactory, all you need to do is to contact us within 24 hours and we will organise a revisit at no additional cost.
Contact us today to experience our high-class cleaning services!