With Airbnb, you need a fast, reliable and thorough cleaning service where attention to detail is paramount. We only employ hotel-standard trained employees. Our staff have been servicing Airbnb businesses in Canberra and beyond for years. We guarantee a high-quality cleaning service that will help you keep or restore your 5-star Airbnb rating.
Gift4Mum Cleaning ACT provides regular cleaning service for your Airbnb businesses in Canberra ACT.
Our professional Airbnb cleaning services will keep your guests happy and ready to give you glowing 5-star reviews and keep you getting bookings all year round.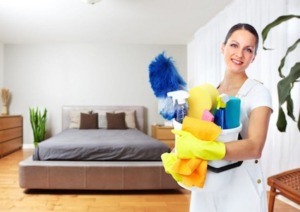 1. Improve your bookings and Airbnb revenue
One of the most crucial elements to running a successful Airbnb business is building up your reputation through your guests' 5-star reviews. Cleanliness is an indispensable factor in achieving this target. 
As a 5-star cleaning service provider in Canberra, we know your guests always want to walk into a place that has been cleaned to a high standard. 
One guest complaining about the cleanliness of your place and leaving a negative review can lower your rating. 
Our qualified cleaners will ensure your property is what your guests expect when they arrive.
​2. Affordable for you and your guests 
If you own a property you rent through Airbnb we know exactly how important it is to find the best level of service at an affordable price.We believe in keeping an affordable, high-quality cleaning service that inevitably will contribute to your ongoing success because that extra effort on our part can make all the difference for your ongoing rentals and income.
3. Reliable and responsive Airbnb cleaners
We have strict eligibility and reliability standards for cleaners in our Airbnb cleaning service. We strive for excellence by offering the most advanced techniques, safe chemicals and meticulous attention to detail to keep your property clean and ready for happy renters.
4. Book easily
At Gift4mum Cleaning ACT we are experienced at Airbnb cleaning, and we understand that you may have little time for changeover between guests. Our flexible schedule allows you to keep your accommodation, whether It is basic or high-end, in impeccable condition. We also streamlined the booking process so it only takes seconds – because booking your cleaning service should be easy!
Detailed jobs that our Airbnb cleaning services cover to keep the cleanliness of your apartment at 5-star standard
BATHROOMS CLEANING
Clean the bathroom mirrors with Windex

Shine chrome spouts and handles

Clean the toilet, toilet seat and around the bowl

Scrub mould off in the shower and sinks

Dry the shower thoroughly once cleaned

Prepare towels, toilet paper, shampoo

Vacuum a bathroom mat (if needed)

Clean and dust window ledges/window sills

Replace items in their proper place

Empty the rubbish in bathrooms and toilets

Vacuum all floors

Mop all tiles/flooring
KITCHEN CLEANING
Clean kitchen sinks thoroughly

Shine chrome spouts and handles

Clean countertops (under appliances)

Wipe stove tops and the front of the oven

Clean inside and outside microwave

Clean inside and outside fridge

Prepare tea, coffee

Empty dishwasher

Wipe down all appliances

Clean and dust window ledges/window sills

Empty the rubbish

Replace items in their proper place

Vacuum all the floor

Mop all tiles/flooring
BEDROOM CLEANING
Clean and dust window ledges/window sills

Wipe down and dust the headboard (if available)

Change linen, make the bed

Wipe mirrors

Clean skirting boards

Vacuum all floors

Mop all tiles/flooring
LIVING ROOM CLEANING
Clean all tables surfaces

Wipe and dust all display units and bookshelves

Dust all TVs and remotes

Clean and dust window ledges/window sills

Wipe mirrors

Cleaning skirting boards

Vacuum all floors

Mop all tiles/flooring
LAUNDRY CLEANING
Wipe down the sink

Vacuum all floors

Mop all tiles/flooring