Nobody wants to have a dirty-looking home at any cost. Whether it is the holiday season or any other time of the year, you should keep your home clean all the time and you might agree that keeping your carpet clean is an important part of ensuring a clean and fresh house. Read on to help you decide if you'd choose carpet steam cleaning or dry cleaning for your carpet.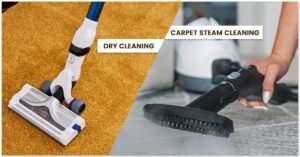 Cleaning carpet regularly will also improve the life and performance of your carpet, and it is something that you cannot miss. But, when it comes to choosing cleaning choices, we all may not know which best cleaning technique is. Here in this blog, you will find out the difference between dry cleaning and steam carpet cleaning.
The Dry Cleaning Method – An Office Cleaning Favorite
Dry cleaning is a widely used office cleaning method to clean carpets due to its fast drying time. It involves mixing a powder with special cleaning agents.
These are scattered over the carpet and scrubbed into the carpet fibers with a machine with counter-rotating brushes. The dirt gets absorbed with the help of a powder, and the remaining powder gets cleaned.
Why Carpet Steam Cleaning is Getting Increasingly Popular
Over the last few years, carpet steam cleaning has become the most efficient carpet cleaning method. It is one of the best cleaning techniques out there and is the most innovative method of cleaning carpet. This is because it does not require strong harmful chemicals to clean; pure steam can remove the accumulated build-up.
In this method, pressure removes the heavy build-up of germs, viruses, and mold effectively. It is an innovative way of removing dust and debris from the carpet using hot water. With the help of special equipment, cleaners use high pressure to inject water into the carpet and remove it later. It works like a vacuum cleaning, but instead of using air to clean; this method uses hot water to extract dirt from the carpet to give a fresh and clean look to your carpet instantly. In some cases that require stain removal, a pre-spray can be applied to the problem areas to remove stubborn marks. So, it is one of the effective ways of cleaning with steam because of these reasons.
Advantages of Steam Cleaning
Choosing the steam cleaning process for home and office cleaning helps you achieve long-lasting results. It is a deep cleaning method of removing dirt from the surface to achieve the cleanliness of your choice.
It is one of the best cleaning techniques because it does not inject any harmful chemicals into the carpet. Neither do team cleaning services leave residues on carpet fibers or unwanted fragrances that trigger allergies. In short, the steam cleaning method is safe for you and your children at home.
Here are some of its major advantages in a nutshell:
It clears out pollutants
Prevents mold growth
Extend Carpet life
Restore original look
If you're thinking of choosing steam carpet cleaning services, go for professionals who use green cleaning products to do the job. These are environmentally safe products and humans because they do not have harmful chemicals. These services are the best for children, pets, and people with allergies.
Conclusion
Carpet steam cleaning is the most recommended method of cleaning, especially with the advantages it has. It is an intensive, hypoallergenic, and pure cleaning method that we all should give a try. Just remember to read the cleaning instructions on the carpet before you call professional cleaners or even try to get rid of the dirt on your own.