There are two types of carpet cleaning using shampoo machines according to our experience.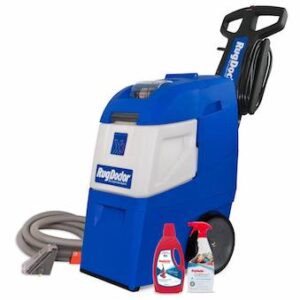 A: Rotary-shampoo carpet cleaning machines.
It uses rotary shampooers to generate the foam from the shampoo tank and go down to the carpet, and a rotary brush from the under part of the machine will scrub the carpet with shampoo solution to clean stain on carpet. Then the machine will suck the dirty water with dirt trapped into carpet into a dirt water tank.
The theory is carpet will be cleaned by using the shampoo solution and brush like the mechanism of carpet cleaning machines. However, the carpet will be wet for at least 3-5 hours depending on how much water pumped into the carpet and how powerful the carpet shampooer can suck up dirty water. And, sometimes, carpet cleaners may drop water, even dirty water on the carpet when moving around the house.
Dry Foam (Cylindrical)
It uses very same types of cleaning agent to rotary-shampoo carpet cleaning machines, except in the most common ones using Von Schrader machine. Instead of a rotary floor machine going around like little buffer, it has a brush on the pile lifter like a vacuum cleaner, and so, it is doing this essentially and usually, what these do by charter machine. In particular, it has an air compressor in it to flips the shampoo solution into a foam and drops foam onto the carpet, and then, as we work in, that is better. But, they printed it from a chemical standpoint.
The principle is the same and dries to a crystal residue and then you can vacuum it up. They sometimes call they are professional carpet cleaners, but they actually damage carpet. That is why the boys came to clean carpet during the day and they go out at night fixing all the problems they have created. That is the process.
There are some carpet cleaning services in Canberra that are using dry foam cleaning, but this type of carpet cleaning machines has some problems for you. One of them is that it is a poor cleaning, streaking, fills up your vacuum hose, fills up with your floor tools, and longer dry time.
Although the these carpet cleaning machines using shampoo is the most popular carpet cleaning used by many carpet cleaners, the reality of the shampoo method is it does an affordable job of cleaning. It uses the same cleaning agent as what you clean your hair to with the active ingredient is the very same read your shampoo bottle. Foam is extremely stable. I think it does not clean very well. Think about you wash your hair every day with heavy-duty shampoo. It will be real harsh women and then colour ball. It does not pull all the oil out of there.
What I was meant from the standpoint is, unfortunately, the carpets are typically cleaned this way. What is in your vacuum hose? Filled by the foam and become smaller by time and the hose becomes smaller. It really makes the carpet will be soaking wet and take longer to dry so make you a residue all kinds of problems are going to happen to you.