If you start wondering which parts of your house need to be cleaned and the order of the regular house cleaning, you may want to start with your bedrooms. You may like to start by making your bed because it is a closet to you and you might need it to be super clean.
1. Clean bedroom
As the general rule, if you want to clean your house, you just think bedrooms are the first. Even your house is a mess, your bedroom is the place that you rest in, and it is at least clean and you can go to bed with a peaceful and restful area to sleep in. You just need to sweep everything, make the bed, and clean the mirror.
2. Clean bathroom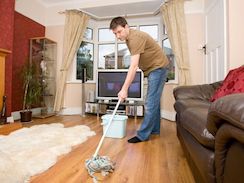 Next, your bathrooms and showers really need to be scrubbed out, so you may want to empty it out and spray them with method antibac which may be useful everywhere in your house. Just spray it down and leave it for few minutes and then scrub the rest of it out. We do have hard water accumulated, so it may be the constant battle to really make the tub and shower screen look truly clean. In this drama, Gumption or a bit Glitz shower cleaner might help., at least it may get the first coat of hard water off of it. If you have done a good job of the same problem, I would love to hear your experience in what cleaning products you used in your shower.
3. Tidy up kid's toys
Many of you have kids, so there must be a bunch of kiddos on floor sometimes. That mean your little ones were playing and having a good time, so everything just needs to go back into its place and with a opened bins on top, you can throw kid's toys into them easily and saves you a lot of time without open up the lid. That is my tip if you going to do toy storage. If your room is really a big mess, you can use a broom to gather the toys, and just sweep them into a pile and you can at least go around and put everything away.
4. Clean floor
Choosing a suitable mop is very important that will make your floor is dry and clean. Choose a type the can put in the washer and wash it that way, so the head will last really long time. They are simple to find at Bunnings.
Everly's birthday was such a huge success and we all had so much fun, but I tell you what having a lot of people in your house really leaves the floor is dirty. It was high time your floor got mocked, also the kitchen floor as it is high frequent step on and food dropped on the floor.
The last should be the laundry that has been your project for the last little while with vacuum floor and get it ready to be mopped.
Hope you got a bit motivation to get your how clean.