Today, most of us are vaccinated but the fact is, we're still living in a pandemic. The COVID-19 virus is still in the air, affecting people in more ways than we can imagine. Amidst all this, health officials are constantly providing tips and suggestions to prevent its spread. One such suggestion is to keep your homes clean.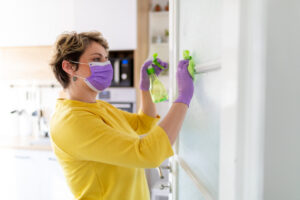 But do you need to hire a professional house cleaning service Canberra? Or you can manage it on your own along with other essential asks?
Come to think of it, hiring a service increases your risk of coming in contact with an outsider. But that can be taken care of by maintaining proper social distance and following other measures. Not hiring a house cleaning service, on the other hand, has multiple downsides. These include:
● Handling more clutter and mess especially since more family members are working or studying from home.
● Not getting to spend enough quality time and devoting more of your time to home cleaning
● Increased stress and less comfort as you will always have cleaning on your mind. Stress can also affect your immunity. This means, despite regular cleaning you will end up affecting your health.
Not hiring a cleaner during the pandemic is like not having candies on Halloween. Besides, don't you think it's better to invest in these services now than regretting your decision later? In short, there are plenty of benefits to hiring a professional service. From great hygiene to the highest cleanliness standards. After all, this is what you want to ensure during a pandemic.
However, if you're not quite convinced of how house cleaning can benefit you, take a look at the reasons below:
Reasons to Hire a House Cleaning Service in Canberra
1. Cleaners are not just experts at what they do but are also responsible. They follow all the possible safety measures to provide you with a great service. Apart from using glasses, facial masks and gloves, they will also maintain a safe distance while providing a service.
2. Since you hire cleaning specialists for your home, you can expect a bespoke service. This means you can set up your own rules and request services that are within your comfort zone. Most cleaners are happy to take up special requests. So, you have all the freedom to request what you like.
3. You will be able to enjoy flawless cleaning without making any effort. And if you are worried about the expense, don't! Just reach out to Gift4Mum Cleaning ACT. Our clients refer to us as the best house cleaner Canberra has. We will accommodate all your requirements within your budget.
4. You won't even have to lift a finger as professionals will take care of all the cleaning there is. This will help you relieve stress and lead a healthy life.
5. The experts will use the highest quality products to make sure you're satisfied with the results. At Gift4MumCleaning ACT, we use eco-friendly products that are all the more beneficial for your health.
6. A professional will clean your house the way you want it. With their efficient services, you will gain some extra time to rest, cook healthy food, and enjoy a cleaner and safer space.
Interested in hiring our professionals? If so, call us at 0410 189 138 or send an email at – [email protected]. You can also get an online quote by filling out our contact form. Share your cleaning requirements with us, we'd be happy to assist you!