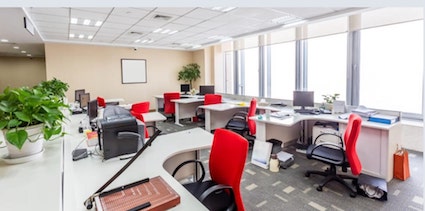 Before clean office, gather all your cleaning equipment and supplies include personal protective equipment such as gloves or masks. As a safety precaution, always check power cord conditions before using electric equipment. Check vacuum bags to see if it should be replaced.
Office Dusting
you can use microfiber dusting mits, synthetic or lamb's wool dusters, feather duster. It is best to use lint-free dusting cloths, microfiber cloths, or vacuuming for healthier indoor air quality. These methods trap most of the dust instead of making the dust airborne.
Cleaning toilet
When cleaning toilets wipe the top of the seat, the backside around the connections, the underside of the seat and all around the bowl. We leave the seats upon the toilets when finished cleaning. Clean all mirrors and polished stainless steel surfaces using glass cleaners and microfiber cloth. Pay special attention to the lower portion of mirrors as this is the area that is splashed with water spots. Be sure to look closely at double-checking for spots and streaks. Then polish the faucets and any polished stainless steel dispensers, making sure there are no streak or spots.
Trashing
As you approach a trashcan, look around the area for obvious trash on the floor or underneath the desk, be sure to pick up any big pieces on the floor and throw them away. Spray to disinfect the trashcan. When you are done with an area, replace the trashcan in the proper place. And put the chair up to the desk. If you know you will be vacuuming under desk areas later you may want to pull the chair and the trashcan out from underneath the desk for now, and then put the trash can back and up to the desk when you finish vacuuming. When trashing in an office, you may come across boxes or items that look like trash but haven't been marked as trash. Be sure your customers know and unless they mark these as the trash you won't be throwing them away.
Mopping floor
Begin by mopping the corners and edges first and then filling in the open areas by using figure 8 pattern turning the mop over as one side gets soiled, then re rinsing the mop head as needed. Move to the next area and follow the same procedure.