Dear Gift4mum's clients,
Thank you for using our cleaning services. At Gift4mum Cleaning ACT, we always strive our best to deliver the highest quality services to our customers. Cleaning in the time of Coronavirus takes more skill than keeping your regular cleaning routine. Regular cleaning and disinfecting around the house or office can limit the spread of the virus or remove it altogether. Good hygiene such as regular hand washing and avoiding touching surfaces that may be potentially contaminated, especially in public places, is essential. At Gift4mum we always clean to perfection. We still applied new cleaning procedures to protect you from the risk of the virus infection. Please find the operating policies and procedures following to assist in alleviating customer concerns during these testing times. We adhere to these additional cleaning procedures according to the guidelines of the Department of Health:
Cleaning rocedures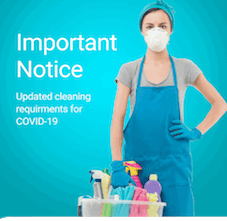 1. We will not attend any public events to protect ourselves from the risk of the virus as we consider this is the first risk prevention from our clients.
2. Wear new disposable gloves for each clean and dispose of them immediately.
3. Hospital-grade disinfectants will be used on all bathrooms and toilets and all high-touch areas.
4. Use non-woven cloths or use new cloths and separately from each house to avoid spreading disease from house to house
5. Extra attention paid to frequently touched surfaces, such as door handles, bedrails, tabletops, light switches, cupboard handles, fridge and appliance handles.
6. Soak mop in hot water, with disinfectant after each cleaning. Any of us who have any Sore throat, Cough, Cold or Flu symptoms MUST NOT attend cleans.
For more information visit
https://www.health.gov.au/sites/default/files/documents/2020/03/environmentalcleaning-and-disinfection-principles-for-covid-19.pdf
We support the community by ensuring ALL our cleaners are free of any cold or flu symptoms – monitor the health of our cleaners, recent travel history and/or those who have had contact with a confirmed COVID-19 case.
The procedures need to applied strickly to protect your health and our team. We understand that working in cleaning industry, expecially with vulnerable such as elderly or NDIS clients we should be much more carefully and care. Our professional housekeepers always make sure there is no risk when coming for cleaning.
For further information please visit health.gov.au or call the Coronavirus Health Information Line (1800 020 080) for advice. In emergency situations contact 000. In the meantime, let's be hygienically smart and careful to ensure our personal safety and collectively all of our house cleaners and customers.
We believe that, together, we will overcome this tough time soon!
Thank you
Daniel Pham