Cleaning the house is something that we should not miss and is an essential everyday task. Not only does regular house cleaning reflect a disciplined personality, but it also leaves an excellent impression on visitors. Also, cleaning your house every day shows self-discipline and a sense of responsibility towards your family. A clean house teaches your kids the importance of cleanliness and encourages them to follow a disciplined lifestyle.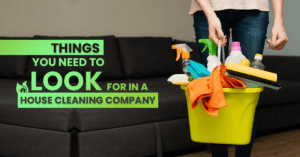 Your home is a place where you have invested a lot of money which is why keeping it in tip-top condition is your responsibility. Homes left unattended accumulate dust and dirt every day, becoming a playground for germs and viruses when the house is not clean for a long time. Keeping a clean house protects from such impurities and improves its value over time. You cannot expect to have a high resale value if you keep your home in a dirty condition. If you plan to sell your house shortly, ensure your carpets remain clean and every corner of your house is free from dust, germs, and viruses. It will improve its value over time.
If cleaning your house regularly seems like a difficult task and things become messy, you can hire cleaning services. Choosing a house cleaning service can lighten your load and remove ugly stains effectively. Furthermore, if your house appears aged or worn out, cleaning services that use green cleaning products can help you remove unwanted stains and black moulds in an environmentally friendly way. The cleanliness of your house is a must for you to maintain its condition when it comes to retaining the value of your home. Therefore, a cleaning service is a must for the better condition of your house and lightening your workload in such cases.
Hiring a house cleaning company is a good choice if you're unable to clean or have no time for it. A housekeeping company has several professionals who can visit according to your schedule. Some companies even offer 24/7 service. However, you need to check a few aspects of hiring a house cleaning company. Hiring a cleaning company is a good idea as it is a quick and thorough service you may need for your house.
Important Things to Know Before You Hire a Cleaning Company
References – You can get a few references from friends and family to know about a reputed company. There are chances that the company your friends and acquaintances chose had a good experience with the company. This way you will get services from a reliable company.
Insurance – Ensure to hire a company that has insurance coverage to protect their employees when something goes wrong at the job.
Service – Be specific about the service they offer and check what they all include in their offer. Do you offer vacuum, mopping, dusting, wiping, and cleaning services together? Do you wipe down expensive appliances? Ask these questions from the cleaning services and call them according to your requirement.
Products – You can enquire about the products they use for cleaning and the products they intend to use in your house. It is a good idea to hire a company that offers green cleaning products only for house cleaning. Also, using natural cleaning products for regular house cleaning is environment friendly and safe for children. So, it is better to know about these things before you call a cleaning company.
Covid -19 Protection – Also, you should ensure the cleaning staff you are calling is vaccinated against Covid-19. Ensuring this aspect will help you keep your family safe.
Don't forget to check our blog on cleanliness – Doing so might help you manage your schedule easily.