A clean house provides comfort and satisfaction to your guest. Maintaining cleanliness is critical for the success of your vacation rental and contributes to your overall success. Taking care of your apartment is the first step of starting a vacation rental business.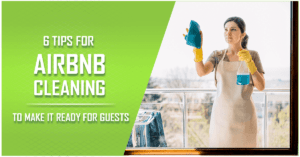 If you have your place on an Airbnb listing, for instance, you'll want your airbnb cleaning done right. That's because your guests can come anytime – and they'll expect a cleanroom. Always ensure to keep your apartment in a tip-top position.
If you are running a business, you need to meet some standards and consistently maintain them. However, it is not easy to clean and maintain everything from changing linens, wiping counters to scrubbing bathroom tiles regularly. Keeping a clean and tidy rental property is one of your prime responsibilities. It does not look good when someone invited to your vacation rental gets to see a lot of filth and dust around them.
Excellent Tips for Vacation Airbnb Cleaning
There are many steps you can take to ensure cleanliness on your property. Cleanliness is directly related to guests' comfort and satisfaction which means you should not skip them. Here are a few steps you need to take for Airbnb Cleaning.
1. Don't forget about toiletries – Keeping your rental property full of essential toiletries and supplies is one of the tasks of running a rental business. At times, you may forget supplies like paper towels and toilet paper. But, you should know these are essential supplies for your guest. No guest will like the idea of using a washroom without toilet paper. So, ensure to keep these things at their places.
2. Provide clean linen- This is something you cannot forget even when there is an offseason. You must regularly change all bed sheets and towels from time to time to ensure you can impress your guest anytime they visit your premises. Find out which linen you want to use in your hotel and how to clean them regularly.
3. Keep the bathroom clean- A neat and clean bathroom is the heart of your guestroom. A clean washroom can help you get good reviews. You need to focus on your problem areas and pay attention to places that can disturb your guest. Ensure to remove stubborn soap stains from the shower heads and bathroom tubs every time someone leaves the room. Using an appropriate cleaning method and some green cleaning products, you can clean every nook and corner of your bathroom.
4. Regular Mopping- Regular mopping floors is another way to ensure your vacation rental is clean. Also, keep in mind that you're keeping your mop in a place free of dust and grime. Otherwise, it will attract more bacteria and dirt, and it will not be easy enough for you to keep the premises clean.
5. Clean Surfaces- Clean metallic surfaces, mirrors, or glass around the apartment to wipe down those tough stains. Unwanted marks and fingerprints may ruin the appearance of glass surfaces and mirrors. You are required to use soap, spray, and glass cleaner to retain the shine back. Reveal a beautiful space for your guest when they come to your vacation rental.
6. Declutter the space- It won't give a nice feeling to your guest when they see a messy place. It's okay to keep a few decorative pieces around, but you also need to clean them regularly. The idea is to keep bare minimum things to give ample space to your guest. The guest will have plenty of free space for their personal use, and this is what they look for when they choose to enter the rental property.
Although you should complete these tasks between guest check-outs and check-ins, you can also schedule a periodic cleaning session by hiring a cleaning company. Some professional cleaning companies offer green cleaning products, non-toxic chemicals which are safe for the environment. These products are safe for children, pets, and people in general. Of course, you can call a cleaning company to enquire about their cleaning methods.
Hiring a cleaning company gives you independence and in-depth cleaning solutions to your vacation rental services. So, all you need is to search for a reliable partner today.
You can also check our previous blog for more information on carpet cleaning at https://greencleaningact.com.au/carpet-cleaning-tips-for-allergy-sufferers.